Hinckley Scribblers is a face-to-face writer's group based in Leicestershire, UK.  We seek to provide a friendly, supportive, informal environment for creative writers both professional and amateur.
Our members include published, self-published and unpublished writers.  You can read more about the format of our meetings
here
.
We can be contacted at hello@hinckleyscribblers.co.uk
Meetings
We welcome new members and meet every Friday morning (with the exception of Bank Holidays) between 10.30 and 12.30 at Hinckley Library, Lancaster Rd, Hinckley LE10 0AT (next to the bus station).  Scroll down for map.
In early November 2021 members of the Hinckley Scribblers were saddened by the news of the death of one of our dearest friends, Philip McCormac, after a short illness. Philip was a prolific writer and had numerous westerns and tales of the supernatural published and available in libraries and online. At our meetings he entertained us with excerpts from his latest novel or amusing tales full of his delightfully wicked sense of humour. Philip was a staunch supporter of the group and was always willing to share his knowledge, experience and love of the written word. During his time with Scribblers he ran several workshops and would offer help and encouragement to those who sought his advice. Throughout the weeks and months when the group was unable to meet in person he was a regular on our weekly online sessions. Cheering us all through the depressing days of the pandemic with his mischievous comments and observations. I first met Philip when I joined Hinckley Scribblers in March 2018 and it soon became apparent how fondly he was regarded by all who knew him. Giving him a lift home after our meetings was always a laughter filled excursion and I shall recall the all too brief time I knew him with great affection.
As a measure of the esteem in which he was held by group members who knew him I offer the following tribute written by Brent Kelly. 
"He was such a lovely man; I cannot believe he has gone. What a writer, what a man. So humble and always encouraging of everyone and never giving any negative feedback, he always found a positive to focus on. He gave me so much support when I joined the group and it was thanks to his tips and encouragement that I was able to complete my own novel. I will never forget his wicked sense of humour; he was unique and he was ours and I was privileged to know him and benefit from his knowledge and love of writing. Our group has suffered a terrible loss but we will carry on because that is what he would want. God bless, Philip".
Bob Crockett – On behalf of those Hinckley Scribblers who knew and loved the man. This tribute was published in the National Association of Writer's Groups Newsletter February 2022.
National Success for Scribblers
For the second year running, Hinckley Scribblers have come away from the National Association of Writers and Groups Annual Awards with a winner.  Chair Bob Crockett won in the Ghost/Horror category with his moving ghost story 'The Bus Ladies of South Padbury', in competition with writers from across the country.  Bob said, "I honestly didn't expect that. I am very pleasantly surprised and would like to thank everyone, especially other members of the group, for their support and feedback."
The group also saw success with several members being selected as Runners-up or Highly Commended in the 2021 Awards.  Runners-up were Chris Rowe (Open Poem), Peter Riley (Memoir), Mae Riley (Story or Poem by a Child, sponsored by Peter Riley) and Creana Bosac (Ghost/Horror Story), with John Welford being Highly Commended in the Travel section.
Chair Bob Crockett added, "This is another great year for the group, building on last year's success.  We have kept meeting online during the pandemic and our meetings have been incredibly beneficial and rewarding, which is reflected in having so many of our writers recognised.  Well done to everyone who entered and congratulations to the Runners-up and Highly Commended.  We will look forward to entering this prestigious competition again next year."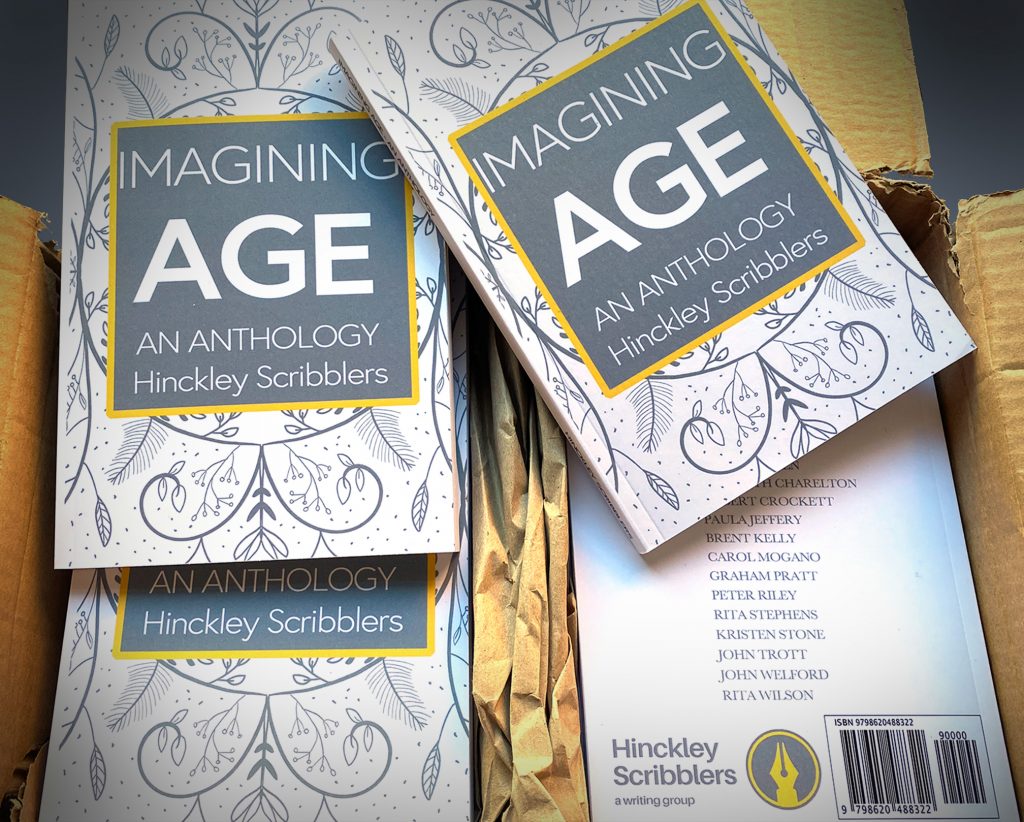 In early 2020, during those carefree days before the COVID-19 crisis, we published an anthology.  With contributions from thirteen of our members and based on a loose theme of 'Age', it is an eclectic  collection of short stories and poems.
We published it at cost – no royalties for us but a chance to get our work out to wider audience at a bargain price.
Click below to check it out.
All writers benefit from sharing their work and getting helpful feedback from others.  However, both giving and receiving critique can seem daunting. With that in mind, Hinckley Scribblers have produced this helpful guide on how to give and receive writerly feedback. 
Members are required to pay a small fee – currently set at £2.00 for each meeting attended.  This pays for the hire of the room, 
affiliation fees to the NAWG and 
provides funds for any publications produced by the group.
First meeting is free!